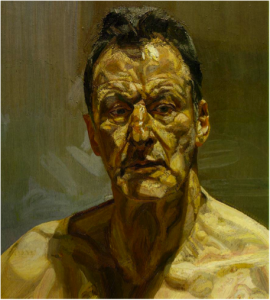 Renowned British painter Lucian Freud died late Wednesday night in his London home at the age of 88. His death was announced by his art dealer in New York. Like many artists and painters of his generation, his work and art was ahead of his time. Lucian Freud went against what was considered to be the norm of art in his time and carved out a niche for his style and his passion. His friends and relatives say that he painted everyday of his life until the very end.
"He certainly is considered one of the most important painters of the 20th and 21st centuries," said Brett Gorvy, the deputy chairman of the postwar art department at Christie's Auction House in New York City. "He stayed with his figurative approach even when it was extremely unpopular, when abstraction was the leading concept, and as time moved on his classic approach has proven to be very important. He fought the system and basically won."  He added.
Freud had a very notable and distinct style that was considered to be very controversial. He painted in impasto and used every detail of his subjects in his paintings. It usually took months and years to finish one of his realistic portraits. Most of his controversial work was his nude paintings that did not shy away from the small and detailed imperfections of the human body.
Freud liked to paint most of his friends, relatives and fellow artists. He was also fond of painting animals and often incorporated pets or horses in most of his most famous paintings. He used as much detail as he could in incorporating detail to his portraits. One of his most famous and controversial works were of Queen Elizabeth II. It was a typical Freud portrait with unyielding detail. Although he was criticized by most people, many believe it to be one of his best works. He contributed the portrait to the royal collection.
Freud was the grandson of noted pioneer of psychoanalysis Sigmund Freud. His family lived in Berlin but moved to London in 1933 after Hitler and the Nazis rose to power. It was in London that he first garnered fame, and he is considered to be the pre-eminent British artist of his time. Some critics even called Freud the greatest living realist painter.
Freud was married twice in his life and has had many notable lovers, even later in his life. He is rumored to have had more than 40 children, although most people consider this to be an exaggeration. Freud's style earned him a reputation as one of the greatest living artists, and most of his painting sold for high prices. His painting of an obese nude woman in a couch sold for $33.6 million in 2008, a record for living artists.