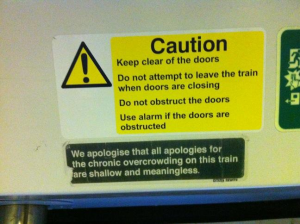 If you are one of millions of Londoners who stoically battles through the Tube's rush hour commute, you will no doubt pass dozens of Transport for London signs and notices on your journey. But how much attention do you actually pay to them?
Take the following examples:
"No eye contact. Penalty £200."
"We apologise for any incontinence caused during these engineering works."
"Peak hours may necessitate you let other people sit on your lap."
These are a few of a growing number of guerrilla stickers that have recently appeared on the network. They use the same fonts and designs as London Underground's famous branding. But they subvert the intended message making often amusing but sometimes serious points about anything from overcrowding to Tube etiquette. But British Transport Police (BTP) warned: "The costs of graffiti are substantial for the railway industry in terms of repairs and clean-up, and can leave permanent scars on the infrastructure."
The BBC spoke to a spokesman for the website which sells stickers similar to some of those which have appeared on the Tube. He referred to himself as James, from east London, and said his site had sold about 200 stickers "for the Underground" so far this year, at an average cost of £2 per sticker. He believes the stickers are about "taking back power".
He said he has seen the stickers growing in popularity. But he defends his website for selling the stickers: "I'm not putting them up and the website cannot endorse them being stuck on the Tube," he said. "It's not graffiti. Stickers can be removed," he added. "It's up to people where they stick the stickers. I don't think it's been doing any particular harm."
Do you find these "Guerilla stickers" amusing or just another eyesore? Feel free to share your thoughts with us!
Source: BBC News
Image: The Poke