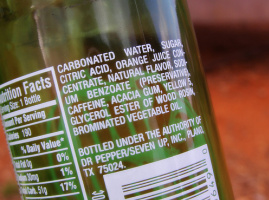 Sarah Kavanagh of  Hattiesburg, Miss., a dedicated vegetarian, checked the label of Gatorade before drinking to make sure no animal products were in the drink. One ingredient, brominated vegetable oil, caught her eye.
'Safe for consumption'
"I knew it probably wasn't from an animal because it had vegetable in the name, but I still wanted to know what it was, so I Googled it," Ms. Kavanagh said. "A page popped up with a long list of possible side effects, including neurological disorders and altered thyroid hormones. I didn't expect that."
She threw the product away and started a petition on Change.org, a nonprofit Web site, that has almost 200,000 signatures. Ms. Kavanagh, 15, hopes her campaign will persuade PepsiCo, Gatorade's maker, to consider changing the drink's formulation.
Jeff Dahncke, a spokesman for PepsiCo, noted that brominated vegetable oil had been deemed safe for consumption by federal regulators. In fact, about 10 percent of drinks sold in the United States contain brominated vegetable oil. The ingredient is added often to citrus drinks to help keep the fruit flavoring evenly distributed; without it, the flavoring would separate.
'Quixotic'
Use of the substance in the United States has been debated for more than three decades, so Ms. Kavanagh's campaign most likely is quixotic. But the European Union has long banned the substance from foods, requiring use of other ingredients. Japan recently moved to do the same.
Meanwhile, no further testing has been done. While most people have limited exposure to brominated vegetable oil, an extensive article about it by Environmental Health News that ran in Scientific American last year found that video gamers and others who binge on sodas and other drinks containing the ingredient experience skin lesions, nerve disorders and memory loss.
How often do you check the label of any food or beverage that you ingest? What further intervention should be done by the federal regulators to make sure the public is safe from harmful ingredients?
Source: Yahoo Finance 
Author: Stephanie Strom, The New York Times
Image: Food Democracy