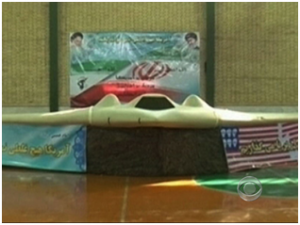 President Barack Obama said Monday that the United States has asked Iran to return a U.S. drone aircraft that Iran claims it recently brought down in Iranian territory.
"We've asked for it back. We'll see how the Iranians respond," Obama said in a news conference, alongside Iraqi Prime Minister Nouri al-Maliki. A top Iranian military official previously vowed not to return the unmanned American stealth plane that it says it has.
"No nation welcomes other countries' spy drones in its territory, and no one sends back the spying equipment and its information back to the country of origin," said Gen. Hossein Salami, deputy commander of Iran's military, the semi-official Fars news agency reported Sunday. "It makes no difference where this drone originated and which group or country sent it to invade our airspace," Salami said. "This was an act of invasion and belligerence."
Former U.S. Vice President Dick Cheney on Monday criticized Obama's decisions on the drone, but for an entirely different reason. He said that, after the aircraft went down, the president should have ordered an airstrike over Iran. Instead, "he asked nicely for them to return it, and they aren't going to," Cheney said.
Salami said downing the plane was "very valuable for us" and "a victory for us and a defeat for our enemies," IRNA reported.
Source: CNN.com
Image: CBS News