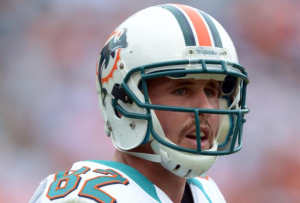 Brian Hartline will begin celebrating his new multimillion dollar contract, just after he takes care of this drive-thru order. Philly.com's Justin Klugh noticed a very peculiar moment during the Miami Dolphins receiver's Wednesday interview with Dan LeBatard.
'Drive thru convenience store'
The two chatted about the recent contract Hartline signed with the Dolphins that ESPN reported was for five years and worth nearly $31 million. You can hear the segment at Philly.com, which features LeBatard launching into a discussion on what the team was doing this offseason. Well, the 26-year-old has no idea about the transactions, because he has been working.
Brian Hartline: Today I'm kinda busy. I'm working at a drive thru up in Ohio, freezing my butt off.

Dan LeBatard: You're working in a drive thru?

BH: Yeah, you know, a drive thru convenience store?

DL: Yeah.

BH: That's where I work.
'Not spend a lot of money'
According to the report, Hartline got into the convenience store business back in January with his pal Jesse, who has been running stores like this since he was 15. Some of you might recall the story of Rams running back Terrance Ganaway, who is working at a Jimmy John's in Waco, Texas, for the offseason, via the St. Louis Post-Dispatch.
The 24-year-old, who received the minimum salary of $390,000 last season, said he is working at a sandwich shop because, "I just wanted to stay fit, stay out of trouble, and really just try to save money and not spend a lot of money."
Now, how many high-earning NFL players do you know actually save and invest their hard-earned salary wisely? Brian Hartline's drive-thru job despite his multi-million dollar contract — like or gripe?
Source: Gabe Zaldivar, Bleacher Report
Image: More Than Pom-poms