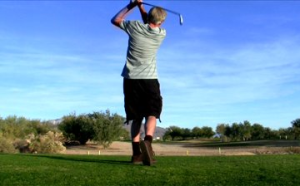 Let's take you to the tranquil setting provided by Elk Point Golf and Country Club in Alberta, Canada, where one golfer seems to have a disagreement with another.
'Immediately regrets'
Weary of talking out their differences, one of them knocks the other out with one wallop to the face.  Aside from the sickening sound the actual punch makes upon impact, the most captivating aspect of this fight is the guy with a mean right hook who immediately regrets his decision to resort to violence.
'Most polite jerk'
He might be the most polite jerk we have ever seen, because he yells, "I didn't want to do that. I'm sorry." It's pretty much the excuse Bruce Banner uses when he wakes up after a Hulk-fueled bender.
Anyone in the know, please let us know how this all worked out. We can only hope the man in white woke up and the two shared a beer and pancakes at the turn.
What do you think happened after the golfer knocked out his fellow golfer with one wallop? And what would you do if you were the golfer who was punched? Feel free to share your most amusing reactions and speculations with us via the comment box below!
Source: Gabe Zaldivar | Bleacher Report
Image: Shutterstock