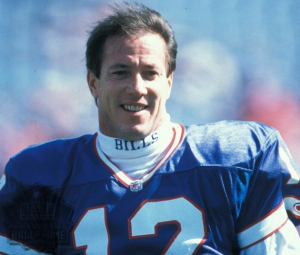 Legendary Buffalo Bills quarterback Jim Kelly will undergo surgery after being diagnosed with squamous-cell carcinoma (cancer) of the upper jaw bone.
'Cancer is isolated'
According to a press release by his former club, the procedure will be performed on Friday, June 7, and his chances for a complete recovery are "very good." Fortunately, the cancer is isolated in Kelly's upper jaw and has not spread to other parts of his body.
Kelly thanked fans for their support and noted that his wife and children would be by his side on the road to recovery. He mentioned that he would appreciate any prayers going forward for himself and his family.
'Toughest challenge yet'
This is unsettling news for Buffalo fans and NFL supporters around the globe. Kelly played for the Bills from 1986 through 1996 and was elected to the Pro Football Hall of Fame in 2002.
Despite running up against some of best opponents in NFL history during those Super Bowl runs, the 53-year-old signal-caller may now be facing his toughest challenge yet. Hopefully, the surgery is successful and Kelly beats his cancer to make a full recovery and return to leading a normal life in short order.
Are you a fan of the Buffalo Bills' Jim Kelly? Feel free to share your own stories of cancer survival!
Source: Alex Kay, Bleacher Report
Image: Pro Football Hall of Fame