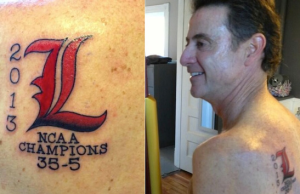 Louisville head basketball coach Rick Pitino may be a 60-year-old grandfather of four, but that didn't stop him from fulfilling his promise of getting a tattoo if the Cardinals won the 2013 national championship.
'2013 NCAA Champions'
According to Louisville senior associate athletic director Kenny Klein, Pitino got a tattoo on his left shoulder blade. It appears to say "2013 NCAA Champions" with a sharp-looking Louisville "L" logo as well.
'Motivational tool'
According to Paul Myerberg of USA Today, Pitino told his team in the middle of the season that if they went on to win the title, he would get inked up. Perhaps Pitino was just joking and using it as a motivational tool at the time, but it worked, and he is holding up his end of the bargain.
Louisville was among the best squads all season long, but it somehow managed to raise its play to another level during the tourney. Pitino's influence probably had a lot to do with it, as the Hall of Fame coach is a great teacher and motivator. He also knew how to keep his team loose. The only question at this point is what Pitino will do for an encore.
Do you like Rick Pitino's new tat? What do you think will be next — a piercing?
Source: Mike Chiari, Bleacher Report
Image: Deadspin