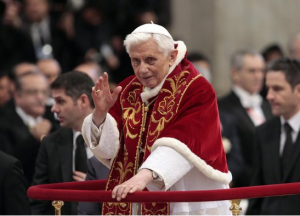 Pope Benedict XVI is to resign at the end of this month after nearly eight years as the head of the Catholic Church, saying he is too old to continue at the age of 85. The unexpected development – the first papal resignation in nearly 600 years – surprised governments, Vatican-watchers and even his closest aides. The Vatican says it expects a new Pope to be elected before Easter.
'Advised by his doctor'
The brother of the German-born Pope said the pontiff had been advised by his doctor not to take any more transatlantic trips and had been considering stepping down for months. Speaking to the BBC from his home in Regensburg in Germany, Georg Ratzinger said his brother's resignation was part of a "natural process". There would be no interference in choosing a successor, Georg Ratzinger said:
"Where he's needed he will make himself available, but he will not want to want to intervene in the affairs of his successor."
The next Pope will be chosen by members of a 117-strong nominating conclave held in the Sistine Chapel at the Vatican. Analysts say Europeans – and Italian-speakers specifically – are still among the favourites, but strong candidates could emerge from Africa and Latin America, which both have very large Catholic populations.
'No longer suited'
In a statement, the pontiff said: "After having repeatedly examined my conscience before God, I have come to the certainty that my strengths, due to an advanced age, are no longer suited to an adequate exercise of the Petrine ministry. I am well aware that this ministry, due to its essential spiritual nature, must be carried out not only with words and deeds, but no less with prayer and suffering…"
A theological conservative before and during his time as Pope, he has taken traditional positions on homosexuality and women priests, while urging abstinence instead of blessing the use of contraceptives.
Were you also surprised by Pope Benedict XVI's sudden resignation? Who do you think will be the next Pope?
Source: BBC News
Image: The New York Times