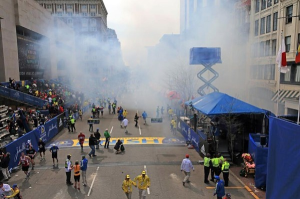 Two bombs struck near the finish line of the Boston Marathon on Monday, turning a celebration into a bloody scene of destruction. Boston Police Commissioner Ed Davis said Monday night that the death toll had risen to three. Scores were injured at the scene.
'Terrorist attack'
Hospitals reported at least 144 people are being treated, with at least 17 of them in critical condition and 25 in serious condition. At least eight of the patients are children. At least 10 people injured had limbs amputated, according to a terrorism expert briefed on the investigation.
The terrorist attack, near the marathon's finish line, triggered widespread screaming and chaos, shattered windows and barricades and sent smoke billowing into the air at Copley Square. The blasts were about 50 to 100 yards apart, officials said, on a stretch of the marathon course lined with spectators cheering runners through the final yards of a 26-mile, 385-yard endurance feat.
'Crude explosive devices'
A federal law enforcement official told CNN that both bombs were small, and initial tests showed no C-4 or other high-grade explosive material, suggesting that the packages used in the attack were crude explosive devices. Authorities in Boston found at least one other explosive device that they were dismantling, Boston Police Commissioner Ed Davis said. Rep. Bill Keating of Massachusetts, meanwhile, said two more were found.
Investigators warned police to be on the lookout for a "darker-skinned or black male" with a possible foreign accent in connection with the attack, according to a law enforcement advisory obtained by CNN. The man was seen with a black backpack and sweatshirt and was trying to get into a restricted area about five minutes before the first explosion, the lookout notice states.
What could have been the motive for this terrorist attack? Do you think the authorities will be able to catch those responsible for the bombing?
Source: Josh Levs and Monte Plott, CNN
Image: The Blaze