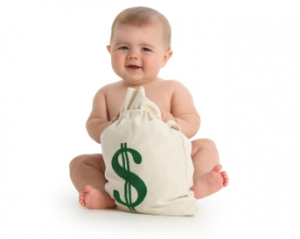 The cost of raising a child from birth to age 17 has surged 25 percent over the last 10 years, due largely to the rising cost of groceries and medical care, according to the Department of Agriculture, which tracks annual expenditures on children by families.
The government's most recent annual report reveals a middle-income family with a child born in 2010 can expect to spend roughly $227,000 for food, shelter and other expenses necessary to raise that child – $287,000 when you factor in projected inflation. And, no, the bill does not include the cost of college or anything related to the pregnancy and delivery.
For most prospective parents, kids are the central priority around which all other lifestyle decisions get made – career moves, housing choices, where to live. Because of its financial impact, however, it's wise to begin planning for parenthood as early as possible, says Matthew Saneholtz, a certified financial adviser with Tobias Financial Advisors in Plantation, Fla.
If one of you plans to quit work to care for the child, your new spending plan should reflect the projected loss of income. If you both plan to continue working, and you don't have family willing to provide free labor, you'll have to factor child care costs into your budget. There's no rule that says you have to help your child with college expenses, of course, but if you plan to do so, you'd better start budgeting for that as well.
Finally, remember that it's ultimately you who decides how much you're willing to spend on your kids.  Children may be a blessing, but they don't come cheap. Families that plan ahead not only have better control over their budgets, but are often able to do more with less. They're also better positioned to ensure their own financial goals don't get derailed along the way.
How do you budget your family's finances with regards to child care? Share your ideas with us!
Source: Yahoo News
Image: Care For Kids