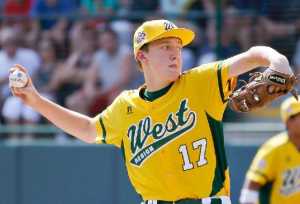 The Little League World Series usually takes us back to a time when teamwork was really the most important thing, but it's hard not to be impressed by the individual effort of California pitcher Grant Holman on the big stage.
'Epic run'
The 6'4″, 166-pound 13-year-old is having a week to remember on the diamond. Sports Center has the details of his epic run through the tournament thus far:
"Grant Holman is a 6-foot-4,13-year-old on Chula Vista, CA. In LLWS, he has a no-hitter, grand slam & 3-run HR. Quite a run, young fella."
Perhaps the most amazing aspect of Holman's tear through the tournament has been the clutch factor of it all. His no-no was made all the more impressive by the fact that opposing pitcher Chad Lorkowski only allowed one hit to the leadoff batter in the first inning before being pulled for going over the 85-pitch limit.
Had Holman not held the other team hitless, his California squad might not have even won its first game.
'Clutch moment'
Holman's grand slam came in the West team's second tournament game with his team already ahead 11-3 in the fourth inning. Even with the comfortable lead, Holman took it upon himself to end the game, as the base-clearing home run allowed California to call it a night thanks to the Little League mercy rule.
But Holman saved his most clutch moment for last. In the team's most recent game against New England representative Westport, Conn., Holman put an end to yet another extra-innings game when he bashed a three-run home run over the center-field wall to give his team the victory and a berth in the United States championship game.
Do you think the MVP title is not far for Grant Holman? Feel free to share your thoughts and opinions with us!
Source: Alex Ballentine | Bleacher Report
Image: Sporting News