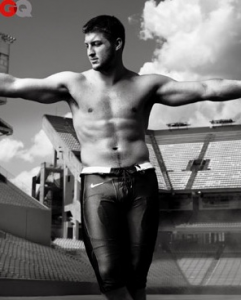 Even in the dog days of August, we can always count on Tim Tebow to provide a heaping helping of sizzle. The latest issue of GQ, which hits newsstands on August 21, offers an interesting take from a writer who is a Jets fan but not a Tebow fan, and how he is trying to resolve this dilemma.
"This, really, is the root of my beef with Tebowmania: It has nothing to do with football," writes Devin Gordon. "It's a sales pitch — a sensation built on evangelism, not ability, powered by people who see a chance to turn the NFL into the next front of the culture war. And now that culture war is coming to my team."
Compelling stuff. Not just the standard I-love-this-guy/I-hate-this-guy yelling that inevitably comes with any Tebow discussion. Gordon brings some context, texture and complexity to the conversation. But Gordon's incisive analysis will likely have to settle for the silver medal in the Generating Buzz competition when GQ packages his story with a photo like that. Shirtless Tebow. In a Jesus-like pose. Because there hadn't been nearly enough hype around the Jets, right?
But let's face it. Tebow would still be an attraction even if he had ended up in Jacksonville. Even Gordon acknowledges that Tebow has that je ne sais quoi, which is noticeable just from being in his presence.
"The charisma is real, folks," he writes. "…Tebow smiles the entire time he is surrounded by reporters, no matter what he's asked, no matter how naked the trap being laid for him, every one of which he dodges, effortlessly, with a soft chuckle. He is clearly enjoying himself. He likes the attention, and not in a craven, needy way. More like: I'm a people person!"
How do you like Tim Tebow's new and sensational GQ photo? Tell us — is it hot or not?
Image: Larry Brown Sports