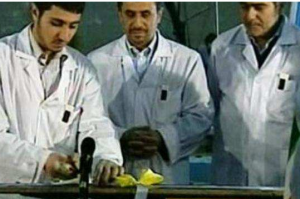 Iran flaunted a new generation of centrifuges and mastery of the nuclear fuel cycle Wednesday as President Mahmoud Ahmadinejad, clad in a white lab coat, was on hand to load domestically made fuel rods into the core of a Tehran reactor.
Also announced was an intent to start production of yellowcake, a chemically treated form of uranium ore used for making enriched uranium. United Nations sanctions ban Iran from importing yellowcake. Domestic production would further Iran's nuclear self-sufficiency.
In a speech outlining the latest developments, Ahmadinejad said Iran was willing to share its nuclear knowledge with other nations that subscribe to the watchdog International Atomic Energy Agency (IAEA). The U.S. State Department, however, dismissed Iran's announcements as bluster for a domestic audience.
The first Iranian nuclear fuel rods, produced by Iranian scientists at the Natanz facility in central Iran, are to be used at the Tehran Nuclear Research Center, which Iran says is used primarily for medical purposes. The Tehran facility creates radio isotopes used for cancer treatment, Press TV reported, adding that 850,000 cancer patients were in dire need. Tehran's latest activities have spiked tensions with Western powers, which believe Iran's atomic ambitions are focused on building a bomb.
A November IAEA report found "credible" information that Tehran has carried out work toward nuclear weapons — including tests of possible bomb components. Iran called the November IAEA report a fabrication aimed at bolstering U.S. accusations that Iran is working toward making a bomb.
Source: CNN
Image: Sky News