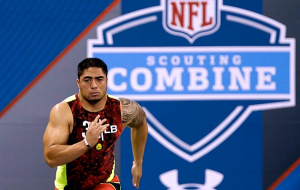 Manti Te'o certainly didn't hurt his draft stock at his pro day at Notre Dame on Tuesday, March 26. The inside linebacker ran faster in the 40-yard dash at South Bend than he did in Indianapolis, according to multiple reports.
'5th fastest among ILBs'
According to ESPN's Matt Fortuna, Notre Dame says he ran faster:
"#NotreDame says Manti Te'o ran a 4.69 40 today, which would've been 5th-fastest among ILBs at combine and 9th among all LBs at combine."
It's worth noting that Vaugh McClure of the Chicago Tribune reported, "an official timer was not in attendance," on Tuesday. Hand times are typically a bit faster than the electronic "official" times at the combine, and Te'o's time on Tuesday didn't change the fact that he's not an explosive athlete. That doesn't mean he's not a first-round linebacker prospect, but it does mean his draft stock won't skyrocket after his pro day.
'Ran a little better'
After his workout concluded, Te'o spoke with members of the media, including McClure:
"I felt good. I'm at home now," Te'o said. "I was very pleased with how I performed." A Notre Dame official said the consesus among scouts was that Te'o ran "a little better" than at the combine. "I just expected me to run faster than I did at the combine," Te'o said. "That's exactly what I did."
Te'o is a first-round linebacker, but he won't likely be drafted until the mid-20s. His pro day showed us the same level of explosiveness and athleticism we've seen since the scouting process began. He isn't an elite athlete, but he is a highly talented player who will be drafted in the first round on April 25, 2013.
Do you think Manti Te'o's pro day performance improved his draft stock? Did he really run faster here than in Indianapolis?
Source: Jesse Reed, Bleacher Report
Image: CBS Sports