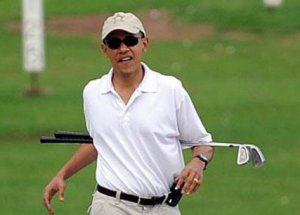 While the Secret Service said it needed to pull officers off the White House public tours for more pressing assignments, the budget ax didn't swing early or deep enough to curtail a host of recent Secret Service-chaperoned trips like President Obama's much-discussed Florida golf outing with Tiger Woods and first lady Michelle Obama's high-profile multi-city media appearances.
'Spared furloughs'
Texas Rep. Louis Gohmert referenced press reports pegging the cost of a recent Florida golf outing Obama took with Tiger Woods at $1 million. He also cited press reports saying 341 federal workers could have been spared furloughs if Obama had stayed home. The price tag and draw on Secret Service resources involving promotional campaigns like Michelle Obama's "Let's Move" initiative is less clear.
'Shameless political stunt'
The Secret Service does not usually reveal how many agents and other resources are assigned to protective missions so it's not known just how much it cost taxpayers to ferry the first lady to events like her dance routine on Jimmy Fallon's show — the highlight of a Feb. 22 media blitz in New York — or her Feb. 27-28 visit to Mississippi, Missouri and her hometown of Chicago.  Those trips would all have involved Secret Service details traveling with the first lady, as well as advance work by teams of agents on location.
Some Republicans in Congress expressed their displeasure with the cuts more forcefully. "Canceling all self-guided White House tours is the latest shameless political stunt by the president, who is twisting basic government efficiency into an extreme consequence," Rep. Tom Graves, R-Ga., said in a statement March 5.
Should the sequester cuts also be applied to the first family's trips? Are you in favor of cancelling the White House public tours?
Source: Barnini Chakraborty, Fox News
Image: Breitbart