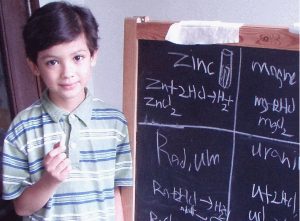 Child prodigies are born, not made (mostly). Practice alone isn't going to turn out the next 6-year-old Mozart. So finds a recent study of eight young prodigies, which sought to shed some light on the innate roots of their talent.
The study found a few key characteristics these youngsters had in common. For one, they all had exceptional working memories — the system that holds information active in the mind, keeping it available for further processing. Most people can hold seven digits at a time on average; hence, the seven-digit phone number. But prodigies can hold much more, and not only can they remember extraordinarily large numbers, but they can also manipulate them and carry out calculations that you or I might have trouble managing with pencil and paper.
Surprisingly, however, the study found that not all of the prodigies had high IQs. Indeed, while they had higher-than-average intelligence, some didn't have IQs that were as elevated as their performance and early achievements would suggest. One child had an IQ of just 108, at the high end of normal.
There was something else striking too. The authors found that prodigies scored high in autistic traits, most notably in their ferocious attention to detail. They scored even higher on this trait than did people diagnosed with Asperger's syndrome, a high-functioning form of autism that typically includes obsession with details.
The intense world theory propounds that all autism carries the potential for exceptional talent and social deficits. The social problems, the theory suggests, may ensue from the autistic person's dysfunctional attempts — social withdrawal and repetitive behaviors, for instance — to deal with his heightened senses and memory. It's possible, then, that the wiring in prodigies' brains resembles that of an autistic person's, or, their brains may function just like those with autism, but their high intelligence allows them to develop socially acceptable ways of coping with the sensory overload.
Do you believe that one can become a prodigy with lots and lots of practice, or is it just impossible because prodigies are born that way? Share your opinions with us!
Image: The Eclectic Garden