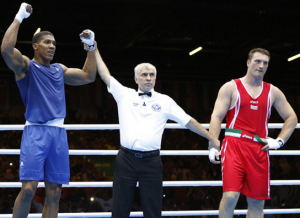 Questions about the scoring in the Olympic men's boxing have been raised after a series of disputed results.
Eyebrows were first raised last Wednesday when Azerbaijan fought Japan. The Azeri bantamweight Magomed Abdulhamidov won the match despite going down six times in the final round. After an appeal by Japan the decision was overturned. Days later another Azeri, Teymur Mammadov, entered the ring and was awarded a very narrow victory against a Belarusian fighter Siarhei Karneyeu. The crowd and commentators were astounded when he won. Belarus appealed but this time it was not upheld.
Last year a Newsnight investigation got hold of a confidential investment agreement between someone from Azerbaijan and World Series Boxing, which is run by AIBA, who also run Olympic Boxing. The investor from Azerbaijan paid $9m to fund an almost bankrupt tournament called the World Series Boxing (WSB). The insiders said Ivan Khodabakhsh, the Chief Operating Officer of WSB, told them that a secret deal had been done in return for two gold medals. But Mr Khodabakhsh told Newsnight that claims that there was any deal with Azerbaijan were "an absolute lie".
The president of the International Boxing Association, Ching-Ko- Wu who was ringside with David Cameron on Wednesday, said: "The allegation that AIBA took a $10m bribe from Azerbaijan in exchange for two gold medals at the Olympic Games in London is untrue… There is only one way to win a gold medal at the Olympic Games and that is to train hard and fight well."
Boxing has had its fair share of scandals and accusations of match fixing. Some people would like to see even more transparency in the scoring. Jim Neilly, BBC commentator who has been ringside at all the fights, said scoring has always been subjective and no scoring system was fool proof. It costs $500 every time an appeal is lodged and he said many countries such as Cuba cannot pay to contest the decisions.
Do you think there is a grain of truth in these match-fixing allegations in Olympic boxing? Share your opinions with us and you be the judge!
Source: BBC News