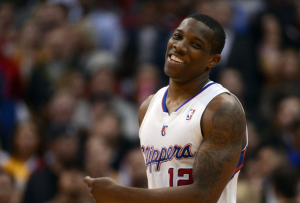 The Phoenix Suns have landed point guard Eric Bledsoe in a three-team trade with the Los Angeles Clippers and Milwaukee Bucks, according to Adrian Wojnarowski of Yahoo! Sports.
'Expendable'
As Wojnarowski notes, sharpshooter J.J. Redick will be moving to Los Angeles to join forces with Chris Paul and Doc Rivers after signing a four-year, $27 million deal in a sign-and-trade.
Redick averaged 14.1 points, 3.8 assists and 2.2 rebounds per game while shooting 36.6 percent from beyond the arc in the 2012-13 season, splitting time between the Orlando Magic and Milwaukee.
Los Angeles was still able to acquire head coach Doc Rivers from Boston, per Sam Amick of USA Today, and only had to give up an unprotected 2015 first-round draft pick. After re-signing starting point guard Chris Paul to a massive five-year, $107 million contract extension, via Shelburne, it was clear that Bledsoe was expendable.
'Immediate impact'
At just 23 years old, Bledsoe was the perfect trade chip for the Clippers. The young point guard is coming off a respectable season despite serving as a backup for the majority of the year. The former Kentucky Wildcat boasted averages of 8.5 points, 3.1 assists, 3.0 rebounds and 1.4 steals per game.
Nevertheless, Bledsoe will be expected to make an immediate impact; the Suns didn't pull the trigger on this deal with the intention of using him sparingly. CP3's now former understudy will likely get closer to 30 minutes a contest, which should allow for all of his numbers to see an uptick.
Which team benefited the most in this 3-team trade — the Clippers, Suns, or Bucks? Which team will you be rooting for during the next season?
Source: Donald Wood | Bleacher Report
Image: Clipper Blog