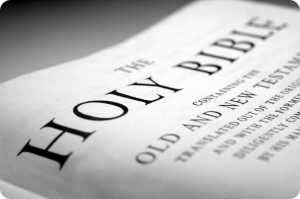 The Bible is a gritty book. Very raw. Very real. It deals with people just like us, just as needy and screwed up as we are, encountering a God who would rather die than spend eternity without them. Yet despite that, it seems like Christians are uncomfortable with how earthy the Bible really is. They feel the need to tidy up God.
For example, look in any modern translation of Isaiah 64:6, and you'll find that, to a holy God, even our most righteous acts are like "filthy rags." The original language doesn't say "filthy rags"; it says "menstrual rags." But that sounds a little too crass, so let's just call them filthy instead.
And let's not talk so much about Jesus being naked on the cross, and let's pretend Paul said that he considered his good deeds "a pile of garbage" in Philippians 3:8 rather than a pile of crap, as the Greek would more accurately be translated.
The point? God's message was not meant to be run through some arbitrary, holier-than-thou politeness filter. He intended the Bible to speak to people where they're at, caught up in the stark reality of life on a fractured planet. I believe that Scripture includes such graphic material to show how far we, as a race, have fallen and how far God was willing to come to rescue us from ourselves.
God is much more interested in honesty than pietism. And that's what he gives us throughout Scripture, telling the stories of people who struggled with the same issues, questions and temptations we face today. We don't need to edit God. We need to let him be the author of our new lives.
Source: CNN
Image: Holy Bible