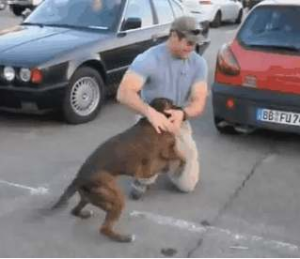 The unconditional love of a pet stands out as being some of the most affectionate love there is. A video of a soldier being greeted by his dog is going viral, because the boxer is so thrilled to see his owner, so much that he cannot contain his excitement.
Nick endured being away from his country when served eight months in Afghanistan, and when he returned to his wife, Katie, in Germany, Chuck was overjoyed to see him.
Two words get Chuck so excited, that he leaps out of the back of a parked SUV as if on command: "Daddy's home." He then jumps all over the soldier, licking him and yelping with happiness. The soldier cannot even get a good grip on Chuck, because he is so happy and jumping and showing how much he missed his owner.
Katie uploaded the video to YouTube less than a week ago, and it already has more than 1.3 million views. This is not the first time Chuck has been a viral video sensation. A year ago, he welcomed his owner back from a different deployment, and he was just as thrilled to have him return home safely.
Source: Yahoo News
Image: Blippitt