09 May 2011 Last updated at 13:13 GMT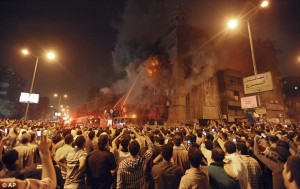 Last night, a violent clash between Christians and Muslims resulted in at least 12 deaths and left two churches burning in the streets of Cairo, Egypt. This latest conflict was a result of the ongoing sectarian tensions since the ousting of former President Hosni Mubarak. These tensions and conflicts have been increasingly frequent since Mubarak was removed from power. If this continues, it will undermine the local government hopeful move into democracy.
The violence in the streets not only undermines the transition government, but also threatens to damage the recovering tourism industry of Egypt. Officials have stated that at least 5 Christians and 6 Muslims were killed and around 220 other people were injured. Among those injured were 65 people that were hit by gunfire.
Since the conflict, Egyptian authorities have stepped up their security forces, conducting military trials for at least 190 people that were arrested in the riot. They have also increased the security in houses of worship and applied tougher laws against attacking religious institutions such as churches. Interim Prime Minister Essam Sharaf cancelled a visit to the Persian Gulf States to conduct an emergency cabinet meeting about the violence in Egypt.
Along with tougher laws and increased security, Egyptian officials have also placed large numbers of heavily armed soldiers and riot police in the neighborhoods where the violence took place. This large force was deployed to discourage any further riots and also to block access to the churches at the center of the clash.
Witnesses and residents in the area said that there was no clear leader for each of the factions but that they saw images of a bearded Salafis, the symbol of Muslim Fundamentalism and used as a term to describe Islam militancy. People from both parties also stated that young men from the neighborhood also clashed, but along the lines of tribal rivalries, and not religion.
Like most of the conflicts that have occurred in the area, the violence started with a rumor that there was an alleged interfaith marriage. Muslims had accused the Christians of abducting and detaining a former Christian who had married a Muslim partner inside the church of St. Mina Christians in the neighborhood said that this was not true and that there was no such woman inside the church. After a conflict that involved hundreds of Christians and Muslims, the Muslims had set fire to the church of St. Mina and to the nearby Church of the Virgin Mary.