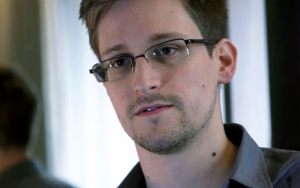 A 29-year-old computer technician for a U.S. defense contractor leaked details of a top-secret American program that collects vast streams of phone and Internet data, American and British newspapers revealed Sunday.
'Massive surveillance machine'
"My sole motive is to inform the public as to that which is done in their name and that which is done against them," the source, Edward Snowden, told Britain's the Guardian, one of the papers that broke stories on the program last week.
Snowden is a former technical assistant for the CIA and has been working at the National Security Agency, the U.S. electronic intelligence service, for the past four years, the newspaper reported. He said he walked away from a six-figure job in Hawaii for the computer consulting firm Booz Allen Hamilton and has holed up in a hotel in Hong Kong in preparation for the expected fallout from his disclosures.
"I'm willing to sacrifice all of that because I can't in good conscience allow the U.S. government to destroy privacy, Internet freedom and basic liberties for people around the world with this massive surveillance machine they're secretly building," he said.
'Existential threat to democracy'
The Guardian reported Wednesday that Verizon Business Network Services had been ordered to hand over telephone records detailing the time, location and telephone numbers involved in domestic calls from April 25 to July 19. An order from a U.S. court that oversees U.S. surveillance efforts backed up the demand, the newspaper reported.
Thursday, the Guardian and the Post disclosed the existence of PRISM, a program they said allows NSA analysts to extract the details of customer activities — including "audio and video chats, photographs, e-mails, documents" and other materials — from computers at Microsoft, Google, Apple and other Internet firms. Snowden said the NSA's reach poses "an existential threat to democracy."
Do you think the government is indeed stepping on the privacy of the people? Or is the PRISM just a necessary move to secure the nation's safety?
Source: Matt Smith, CNN
Image: Politico