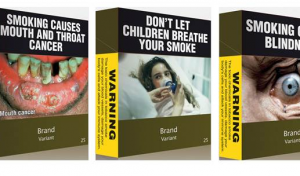 Australia has urged other countries to adopt the world's toughest law on cigarette promotion, which was upheld Wednesday by the country's highest court and prohibits tobacco companies from displaying their logos on cigarette packs.
Starting in December, packs will instead come in a uniformly drab shade of olive and feature graphic health warnings and images of cancer-riddled mouths, blinded eyeballs and sickly children. The government hopes the new packs will make smoking as unglamorous as possible.
British American Tobacco, Philip Morris International, Imperial Tobacco and Japan Tobacco International are worried that the law will set a global precedent that could slash billions of dollars from the values of their brands. They challenged the new rules on the grounds that they violate intellectual property rights and devalue their trademarks.
Philip Morris said it would continue to pursue compensation through the terms of a bilateral investment treaty between Australia and Hong Kong. British American Tobacco spokesman Scott McIntyre said the company was disappointed in the court's decision but would comply with the law: "Although the (law) passed the constitutional test, it's still a bad law that will only benefit organized crime groups which sell illegal tobacco on our streets.." McIntyre said in a statement. Imperial Tobacco echoed that argument.
Australia's Health Minister Tanya Plibersek dismissed those claims, saying there are still measures to prevent counterfeiting, such as the use of alphanumeric codes on legitimate cigarette packs.
Tobacco advertising was banned from Australian television and radio in 1976. Restrictions on advertising have tightened over the years to include print ads, the Internet and retail outlets. Smokers account for 17 percent of Australia's population, compared with around 20 percent of American adults. With high taxes aimed at dissuading smokers, a pack of 25 cigarettes retails in Australia for about 16 Australian dollars ($17).
Are you for or against Australia's logo ban on cigarette packs? Do you think it could be a globally effective strategy to curb smoking habits? Let the word war between smokers and non-smokers begin!
Image: MSNBC