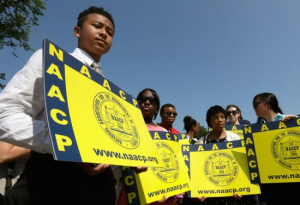 The law passed at the height of America's civil rights movement, when citizens in parts of the country were fighting each other and sometimes authorities over how skin color impacts a person's place in a democracy. Now, it's present and future are in doubt after the Supreme Court's 5-4 decision Tuesday that key parts of the Voting Rights Act of 1965 are no longer valid.
'Unfair barriers'
Tuesday's ruling doesn't change the fact it's still illegal to discriminate against a person when it comes to voting. But it does change how some governments have been singled out. Unlike the rest of the nation, these municipalities, counties and states have had to get the federal government's approval first before they made any changes to their voting laws and regulations.
Civil rights groups say the Voting Rights Act — specifically Section 5, the mechanism for the special treatment for some locales — has been an important tool in protecting minority voters from governments with a history of setting unfair barriers to the polls.
'Equal voting process'
The law had been working in preventing "discriminatory voting changes," Attorney General Eric Holder said. Specifically, he mentioned how it blocked Texas from adopting a new congressional redistricting map that would have "discriminated against Latino voters." Holder also said the Voting Rights Act changed how South Carolina will implement a law requiring photo identification before being allowed to vote.
Obama characterized Tuesday's ruling as a "setback," even as he vowed his "administration will continue to do everything in its power to ensure a fair and equal voting process."
This particular change in the Voting Rights Act — is it a good thing or a bad thing in general? Feel free to air out your comments below!
Source: Bill Mears and Greg Botelho | CNN
Image: Al-Rasub