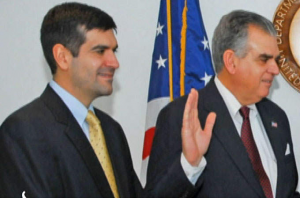 Egypt's justice minister said on Tuesday he had sent back a letter from the U.S. ambassador that asked for an end to a travel ban on Americans being investigated for alleged illegal funding of pro-democracy groups.
In Cairo, Justice Minister Adel Abdelhamid Abdallah said he returned the U.S. embassy letter, highlighting strains between Washington and its long-standing Arab ally since the overthrow last year of Egyptian President Hosni Mubarak in a popular uprising.
Washington said several U.S. citizens working for civil society groups were banned from leaving Egypt and took refuge at its embassy in Cairo after the non-governmental organizations were raided by the military-led Egyptian authorities.
Abdallah said U.S. Ambassador Anne Patterson's written request to lift the travel ban was sent to his home and he returned it to the U.S. embassy because it should have been sent to the investigating judges. State Department spokesman Mark Toner told a news briefing that Washington would continue to press Egypt to allow the NGO staffers to leave.
Egypt's government says the number of NGOs violating the law on funding political activities had grown since the uprising against Mubarak. Among those prevented from leaving Egypt was the IRI's Egypt country director Sam LaHood, who is the son of U.S. Transportation Secretary Ray LaHood.
Source: Reuters
Image: Al Jazeera