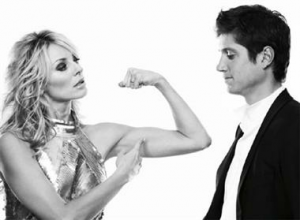 Over at Cosmo, we love men. But we kept coming across tons of studies proving women have some amazing abilities that men lack. So, we rounded up some of our favorites. Hello, ego boost!
1. We're cleaner.
A study from San Diego State University of offices across the U.S. found that men's desks and offices are germier than women's. Researchers discovered that men had anywhere from 10 to 20 percent more bacteria in their workspaces than women-and scientists say it's because they tend to be less hygenic. Ick.

2. We evolve hotter.
A recent study revealed that women are getting better looking through evolution; meanwhile, men are staying the same. After following more than 2,000 people through four decades of life, the study showed that attractive women had 16 percent more children than average-looking chicks and that beautiful people are 36 percent more likely to have a daughter as their firstborn. All those gorgeous daughters mean more beautiful women than in past generations.
3. We survive car accidents more often.
Men are 77 percent more likely to die in a car accident than women, according to a study done by Carnegie Mellon University. Our boyfriends should be thanking us when we nag them to "Wear your seatbelt!"
4. We have stronger immune systems.
A study done by McGill University indicated that estrogen gives women an edge when it comes to fighting off infections. That's because estrogen confronts a certain enzyme that often hinders the body's first line of defense against bacteria and viruses.
5. We live longer.
Among the world's population of those who are over 100 years old, 85 percent are women, according to the New England Centenarian Study. In general, women continue to live five to 10 years longer than men as well. 

No intention to start a gender war here, but do you agree that women are better than men when it comes to the stuff enumerated above?
Source: Yahoo News
Image: Fan Box