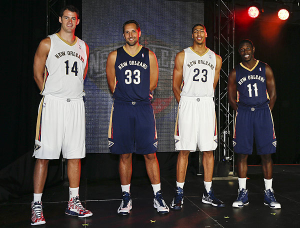 If we had to describe the New Orleans Pelicans' new uniforms in one word, it would have to be ordinary. Or pedestrian. Or bland. Take your pick. The team unveiled their brand-spanking (not so) new look in front of a crowded, smoke-filled room overlooking a fashion-show-esque runway.
'Flat-out boring'
Aided by Jason Smith (the team's longest-tenured player), Ryan Anderson, Anthony Davis and All-Star point guard Jrue Holiday, New Orleans ushered in its next era of basketball attire with a bang—or tried, at least. Lights flashed, smoke blew and the players smiled, but did the jerseys deliver?
A potential kidnapping of Cleveland and Memphis' uniform designers aside, New Orleans' new color scheme is flat-out boring. Perhaps it's just because we've seen these color blueprints before, but nothing about them "pops" or is especially unique. Too bad the Louisiana state bird isn't the flamingo instead of the Brown Pelican. Then the team could have incorporated a lively pink into what is right now a dreary combination of shades.
'Omelets'
I commend New Orleans for those random egg-shaped bumps, for they really liven up an oft-overlooked aspect of the uniform. They're unique, out of place and make me think of omelets. Job well done. Not even a string of haphazard lumps are enough to prevent us from noticing the absence of a freaking pelican, though.
Let's be clear: New Orleans could have done worse. These uniforms could have been all brown. That would have been worse. But they could have also been better. Much better. For now, until the Pelicans can come out with an alternate jersey leading into the 2014-15 season, these will have to do.
So, whaddaya think of the New Orleans Pelicans' new uniforms — flyer or diver? Share your thoughts with us!
Source: Dan Favale | Bleacher Report
Image: Sports Illustrated