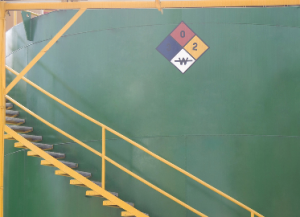 A roofer in New Jersey reportedly jumped into a vat of nitric acid on Monday to save a co-worker who had fallen in.
Martin Davis was working at Swepco Tube LLC, a metal tube manufacturing plant in Clifton, N.J., when he fell 40 feet into the tank of acid and became full submerged, fire officials said. Clifton Fire Chief Vincent Colavitti Jr. told the Record that a fellow roofer, 51-year-old Rob Nuckols, jumped into the vat waist-high to pull Davis, 44, out. Three other workers helped Nuckols pluck Davis from the acid, which is used to clean metal tubing.
Rescue workers "cut Davis out of his clothes and sprayed him with water to limit burns," Colavitti told the paper. Davis suffered "a broken rib, punctured lung, and burns on his legs and side" and is in critical condition, according to the Associated Press. Nuckols was also treated for burns.
A co-worker who returned to the factory to collect Davis' things agreed: "It's not that kind of acid," the co-worker said, declining to give his name to the paper. "It's diluted. He's going to be fine."
Would you be willing to risk your life to save a co-worker? Share your thoughts with us!
Source: Yahoo News
Image: Gizmodo