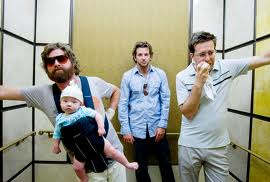 Many of us use elevators several times a day, but how bizarre we act when we are inside remain unnoticed most of the time. Our behaviour inside elevators actually reveal a hidden anxiety.
'Unconscious movement patterns'
Dr. Lee Gray, fondly referred to as "the Elevator Guy," has made it his business to investigate this form of public transportation. As he observed, conversations started at the lobby are quickly hushed once people step inside the confines of the elevator. Occupants then uniformly face the door. When a new passenger comes in, we quickly move. He has observed that elevator riders go through a specific pattern of movements unconsciously.
If you are alone in the lift, you are free to do what you want. But when another person enters your little box, you immediately take different corners farthest apart from each other. When a third person joins your square world, you unconsciously move to form a triangle. And when a fourth person enters the elevator, a square is formed. A fifth passenger will probably have to occupy the middle spot. From there on, it is an unchartered territory. Each passenger will have to anticipate that familiar ring followed by the door sliding open. For most of the time inside, the rules are simple — look down, try not to make any eye contact, and busy yourself with whatever handheld gadget you have. Why do people act so awkward inside elevators?
'Not enough space'
According to Professor Babette Renneberg, a clinical psychologist at the Free University of Berlin, it is because we do not have enough space. "Usually when we meet other people we have about an arm's length of distance between us. And that's not possible in most elevators, so it's a very unusual setting. It's unnatural." In such a small and enclosed space, the easiest way to avoid acknowledging this lack of space is to avoid eye-contact. But more than plain social awkwardness, maybe there is still more to this behaviour. Maybe people just find the elevator creepy and just want to get the whole trip over and done with as soon as possible.
Regardless of all the awkwardness and anxieties linked to riding the elevator, Gray affirms that they are still deemed safer than both cars and escalators. At the back of our minds, this is what we know, and this is why we continue to take the lift every single day to work.
What is the most awkward situation that you have encountered in an elevator? Tell us if you agree or disagree with this write-up!
Image: Maurice Broaddus