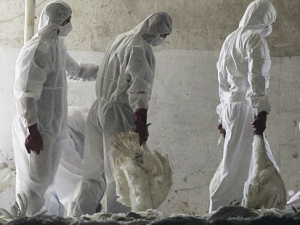 The H5N1 bird flu virus could change into a form able to spread rapidly between humans, scientists have warned. Researchers have identified five genetic changes that could allow the virus to start a deadly pandemic.
Writing in the journal Science, they say it would be theoretically possible for these changes to occur in nature. A US agency has tried unsuccessfully to ban publication of parts of the research fearing it could be used by terrorists to create a bioweapon. According to Prof Ron Fouchier from the Erasmus Medical Centre in the Netherlands, who led the research, publication of the work in full will give the wider scientific community the best possible chance to combat future flu pandemics.
The H5N1 virus has been responsible for the deaths of tens of millions of birds and has led to hundreds of millions more being slaughtered to stop its spread. The virus is also deadly to humans but can only be transmitted by close contact with infected birds. It is for this reason that relatively few people have died of bird flu. Latest World Health Organization (WHO) figures indicate 332 people have died of the illness since 2003.
A group led by Prof Fouchier wanted to find out which genetic changes were required to enable the H5N1 virus to mutate into a form that could be transmitted from person to person through the air. They confirmed their theory was correct by genetically engineering those changes into the H5N1 virus which they found could then be spread between ferrets through coughing and sneezing.
It is the first time it has been shown that it is possible for bird flu to become airborne, but the research team was unable to determine precisely how likely this was to happen. Researchers want to be able to calculate the risk of such a virus emerging more precisely in order to help public health officials in their contingency planning.
Should scientists publicize the full information of this study, or should they redact important details to prevent misuse by terrorists?
Source: BBC News
Image: Scientific American