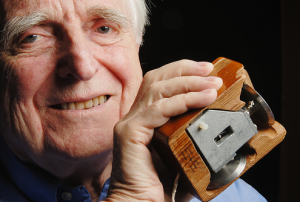 Douglas Engelbart, whose invention of the mouse transformed the way people interact with computers, died Tuesday night at his home in Atherton, California, SRI International — the research institute where he once worked –said in a statement. He was 88.
'A vision'
Decades ago, Engelbart came up with the idea we now know as a mouse. His first prototype, which featured a carved out wooden block, wheels and a tiny red button, looks quite different from the sleek plastic designs now seen in homes and offices around the world.
A radar technician during World War II, Engelbart worked at the Stanford Research Institute during the 1960s. It was there that a vision of people sitting in front of a video screen, interacting with a computer, came to him.
'Global scale'
Engelbart invented and patented what he called the "x-y position indicator," receiving a $10,000 check for the invention. He told CNN he couldn't recall who on his team had decided to call it a mouse. Later, he went on to found the Doug Engelbart Institute, a nonprofit dedicated to boosting the collective ability to solve complex, urgent problems on a global scale.
In addition to the computer mouse, Engelbart's work at SRI from 1957 to 1977 helped develop tech innovations such as display editing, online processing, linking and in-file object addressing, use of multiple windows, hypermedia, and context-sensitive help, the institute said.
Engelbart is survived by his wife and four children.
Can you imagine a modern world without the computer mouse? Which technological innovation do you find the most interesting?
Source: CNN
Image: Nerds in the Know