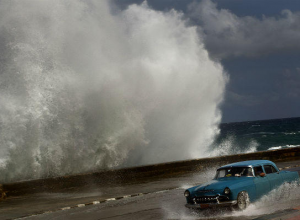 The East Coast is bracing for Hurricane Sandy, a "rare hybrid storm" that is expected to bring a life-threatening storm surge to the mid-Atlantic coast, Long Island Sound and New York harbor, forecasters say, with winds expected to be at or near hurricane force when it makes landfall sometime on Monday.
'One of the biggest storms'
According to the National Hurricane Center, the Category 1 hurricane was centered about 280 miles southeast of Cape Hatteras, N.C., and 485 miles south of New York City early Sunday, carrying maximum sustained winds of 75 mph and moving northeast at 15 mph.
A tropical storm warning has been issued between Cape Fear to Duck, N.C., while hurricane watches and high-wind warnings are in effect from the Virginia to Massachusetts. The hurricane-force winds extend 175 miles from the epicenter of the storm, while tropical storm-force winds extend 500 miles–or roughly 1,000 miles end to end, making Sandy one of the biggest storms to ever hit the East Coast.
"We're looking at impact of greater than 50 to 60 million people," Louis Uccellini, head of environmental prediction for the National Oceanic and Atmospheric Administration, told the Associated Press.
'Life-threatening'
Meanwhile, emergency evacuations were being mulled by state officials in Connecticut, Massachusetts, Vermont, New Hampshire and even Maine. In Virginia, Governor Bob McDonnell said 20,000 homes there had already reported power outages. Forecasters also fear the combination of storm surge, high tide and heavy rain–between 3 and 12 inches in some areas–could be life-threatening for coastal residents.
According to the National Hurricane Center summary, coastal water levels could rise anywhere between 1 and 12 feet from North Carolina to Cape Cod, depending on the timing of the "peak surge." A surge of 6 to 11 feet is forecast for Long Island Sound and Raritan Bay, including New York Harbor. The storm surge in New York Harbor during Hurricane Irene in September 2011, forecasters noted, was four feet.
How do you prepare for a superstorm like Sandy? Tell us about your most unforgettable storm survival stories!