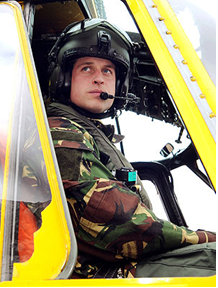 The Duke of Cambridge helped lead search and rescue efforts for eight sailors swept into the sea after their ship sank amid gale-force winds off the coast of north Wales. He co-piloted an RAF helicopter which winched two men to safety amid the debris of their cargo ship, the Swanland, in the early hours of Sunday morning. Rescuers later recovered the body of a third man from the Irish Sea off the Llyn Peninsula as fears grew for the remaining five crewmembers.
The tragedy comes just over a year after the same ship – owned by company in Grimsby but flagged to the Cook Islands and crewed by Russians – had to be rescued after coming perilously close to running aground in Cornwall. Coastguards used legal powers to order it to accept a tow to safety after drifting almost three miles towards the Lizard peninsula after suffering engine failure.
By the time lifeboats and rescue helicopters reached the scene, all that was left of the ship, which was carrying 3,000 tons of limestone, was a scattering of debris and two liferafts with two sailors clinging to them.
Rescuers were initially unable to reach the raft because of treacherous conditions, but reported that it appeared to be empty. Two attempts to make certain that nobody was inside failed after treacherous conditions defeated attempts to winch a rescuer close enough or access it by lifeboat.
Last night the Rail Maritime and Transport union called for a "full and transparent" investigaton into the sinking.