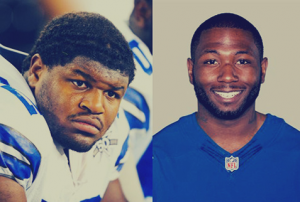 In the wake of the report that the mother of late Dallas Cowboys linebacker Jerry Brown wants Josh Brent to ride with her and sit with the family during Brown's funeral, chilling details of what allegedly occurred at the crime scene are beginning to emerge.
'Had to be coerced'
Eyewitness Stacee McWilliams was on her way from celebrating her birthday when she came upon the crash scene. McWilliams tells the Dallas Morning News that Brent had to be coerced to attempt to rescue Brown from the burning vehicle.
"The person that was in the other vehicle stepped out of her car and she said 'I've already called 9-1-1, they're on the way'… But it took no time at all for this fire to really get engaged… I started to hear screams coming from inside the vehicle and it was a man's voice… I turned and looked at the gentleman in the black pants (Brent), and I said 'Is there a passenger? Is there somebody in the car?'. And he said 'Yeah'. And I told him 'Well, get him out of the car'."
'Eligible for forgiveness'
McWilliams returned to her vehicle to retrieve her phone and when she returned, Brent had pulled the passenger (Brown) from the fiery wreck.
Few would regard Brent as a hero. The bottom line is that he made the decision to drive after consuming alcohol, a decision that resulted in the death of his close friend and teammate, Jerry Brown, and the end to what was a promising football career for himself, which will now be replaced by a prison sentence of up to 20 years and a lifetime of regret over what he has done. Brent is eligible for forgiveness, though, and the Brown family is doing just that.
What do you think really happened in this fatal accident? Do you believe all the things that this eyewitness is saying?
Image: Bob 93.7 FM