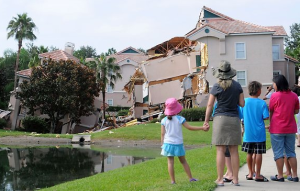 A 60-foot-wide sinkhole formed under a resort in central Florida late Sunday, forcing guests out of their rooms as one three-story building collapsed and another slowly sank.
'15-foot-deep crater'
Guests at the Summer Bay Resort in Clermont, about 10 minutes from Walt Disney World, called for help before the collapse, saying they heard loud noises and windows cracking. All guests inside the buildings — an estimated 35 people, authorities said — were evacuated before the first structure crumbled.
A roughly 15-foot-deep crater swallowed much of one building, Lake County Fire Rescue Battalion Chief Tony Cuellar said. Aerial video from CNN affiliate WFTV showed one end of the building — which had held two-bedroom, two-bathroom villas — still standing, but the rest reduced to a pile of debris. No injuries were reported.
'Mammoth sinkholes'
Florida is notorious for mammoth sinkholes. In February, a sinkhole opened beneath a suburban Tampa home, swallowing 36-year-old Jeff Bush from his bedroom. Bush's body was never recovered.
Sinkholes often start when bedrock dissolves but the surface of the ground stays intact. The void eventually collapses.
Have you ever been in an accident caused by a sinkhole? Feel free to share your own experience with us.
Source: AnneClaire Stapleton | CNN
Image: The Telegraph