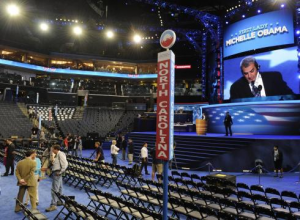 College students from across North Carolina will arrive in Charlotte by the busload. Same with members of predominantly black churches in neighboring South Carolina.  Their goal: help fill a 74,000-seat outdoor stadium to capacity when President Obama accepts the Democratic nomination Thursday night.
Anything short of a full house on the final night of the Democratic Party's national convention will be instant fodder for Republicans eager to use empty seats as symbols of waning voter enthusiasm for Obama.
Elena Botella, a student at Duke University and president of the College Democrats of North Carolina, said her school was busing 100 students to the speech. Lonnie Randolph, the president of the South Carolina chapter of the NAACP, said several large black churches in his state are planning to send busloads of members on Thursday to watch the president's speech.
Obama aides say several thousand tickets also have been given to new campaign volunteers in North Carolina. People who complete three volunteer shifts totaling nine hours got one ticket to the final speech.  The volunteer ticketing program also helps Obama boost his grassroots network in North Carolina, a battleground state he moved into the Democratic column in 2008 for the first time in nearly 40 years. But Obama is facing an uphill battle this time around in North Carolina, where the unemployment rate exceeds the national average and voters approved a gay marriage ban the day before the president announced his support for same-sex unions.
Thursday's event is certain to draw comparisons to 2008, when Obama accepted the Democratic nomination before a capacity crowd at an 84,000-seat stadium in Denver. This time around, Obama's crowds are far smaller.
Are you voting for President Obama this coming election? Why or why not? Feel free to express your ideas below!
Source: Fox News
Image: USA Today