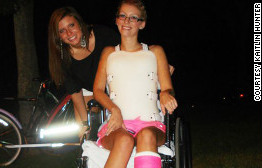 After surviving a near-fatal car accident, Kaitlin Hunter found herself battling a devastating bacterial infection in her colon that also threatened her life. The persistent infection was beaten through a little-known technique involving the transplant of fecal matter from Hunter's mother, which put healthy bacteria back into her colon.
A June 2011 car accident fractured her lower spine, lacerated her liver and colon, and broke all 10 toes. Emergency crews used the Jaws of Life to cut Hunter from her dad's car, and then she was flown to the hospital, where she spent the next month. Upon her release, Hunter flew home to Georgia. It hadn't been the summer vacation she imagined, but she thought she was getting better. But "right when I got off the plane, I went to the hospital. I was having extremely bad stomach pain. A month later, we found out it was C. diff," Hunter said, using the abbreviation for the bacteria clostridium difficile.
In the hospital after her accident, doctors followed standard care and put Hunter on antibiotics to prevent an infection. In spite of the antibiotics — or possibly because of them — C. diff infected her colon, causing severe stomach pain, diarrhea and vomiting.
It's believed that antibiotics, which kill harmful infection-causing bacteria, also weaken the beneficial, healthy bacteria percolating in the colon. With the colon's defenses down, C. diff grows rampant, releasing a toxin and inflaming the colon.
Instead of continued assaults on bacteria, "fecal matter transplants" recolonize the colon with new bacteria from a healthy donor. Hunter's mother "donated" one of her stools for the procedure. Next, the hospital lab carefully diluted it, and George pumped the foreign fecal matter right into Hunter's colon. The result ended Hunter's struggle with C. diff.
Would you undergo fecal transplant if the same thing happened to you? Feel free to share your thoughts and opinions with us!
Source: CNN
Image: Health College