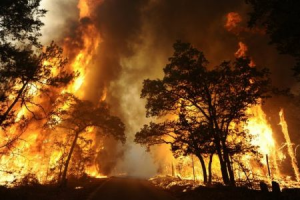 Some of the country's best firefighters matched wits Wednesday with a fiendish Colorado wildfire that has scorched structures and sent tens of thousands fleeing from Colorado Springs and other communities.
As predicted, erratic winds kicked up again in the afternoon, increasing the chance of embers jumping fire lines and creating more havoc, officials said. They said they had not completed an inventory of homes and other structures lost or damaged Tuesday by the Waldo Canyon Fire, which was only 5% contained. Nearly 1,000 firefighters tried to corral the 15,517-acre blaze that moved into Colorado Springs.
Incident commander Rich Harvey said progress had been made in some portions of the Waldo Canyon Fire, and firefighters were taking an aggressive stance against hot spots. Higher humidity and cloud cover Wednesday night might aid firefighting efforts, but there was no guarantee conditions would not be similar to Tuesday's conflagration, Harvey told reporters.
President Barack Obama will travel to the Colorado Springs area Friday to survey the damage and thank responders battling the blaze, the White House said.
The Waldo Canyon Fire captured attention because of its proximity to landmarks such as Pikes Peak and the Air Force Academy, and also to Colorado Springs, a city of about 400,000, the state's second largest. Winds gusting to 65 mph through mountain canyons blew the wildfire through containment lines into northwest Colorado Springs on Tuesday afternoon. It roared downhill, burning to the ground the Flying W Ranch, a popular Western-style tourist destination.
Colorado wildfires had consumed 181,426 acres by Wednesday afternoon, according to the Colorado Division of Emergency Management.
What could have sparked this terrifying wildfire? Have you been a victim of this type of calamity? Share your thoughts and experiences with us!
Source: CNN
Image: Press TV