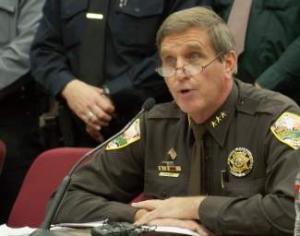 Weld County Sheriff John Cooke won't enforce new state gun measures expected to be signed into law by Democratic Gov. John Hickenlooper, arguing the proposed firearms restrictions give a "false sense of security."
'Unenforceable'
Lawmakers in Colorado on Friday approved a landmark expansion of background checks on firearm purchases. Earlier in the week, Colorado lawmakers approved a 15-round limit on ammunition magazines. Both measures are awaiting the expected approval of the governor. Cooke told GreeleyTribune.com that Democrats in the state legislature are uninformed and scrambling in response to the Aurora movie theater shooting and other recent tragedies.
"They're feel-good, knee-jerk reactions that are unenforceable," he told the news outlet.
'Unfortunate history of mass shootings'
The bill passed Friday expands cases when a $10 criminal background check would be required to legally transfer a gun. Republicans have opposed the bill, calling it an undue burden on law-abiding gun owners.
Cooke said the proposed firearms transfer requirement would not keep guns out of the hands of criminals, according to the GreeleyTribune.com report. The sheriff told the news outlet that he and other county sheriffs "won't bother enforcing" the laws because it won't be possible to keep track of how gun owners are complying with the new requirements.
Colorado is the first state outside the East Coast to significantly ratchet back gun rights after the theater and school shootings. Colorado's gun debate was being watched closely because it's considered a swing state with both a gun-loving frontier past and an unfortunate history of mass shootings, including the 1999 Columbine High School attack.
Are you in favor of Colorado's new state gun measures? Why or why not?
Source: Fox News
Image: The Tribune