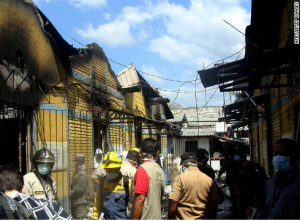 More than 350 convicts died screaming and spluttering when a huge fire ripped through a prison in Honduras, reducing large swathes of the complex to a blackened husk.
Choked by smoke and scorched by flames, hundreds of inmates scrambled to escape with their lives after an inmate apparently set fire to the overcrowded prison in Comayagua, about 75 km (45 miles) north of the capital Tegucigalpa on Tuesday night. But 359 people were unable to get out and perished in the blaze, the attorney general's office said. It was one of the worst prison fires in history, a grim new milestone for a country the United Nations says is already the most murderous on the planet.
Inmates heard screams as the fire engulfed the prison, trapping inmates in their cells. Many of the bodies recovered from the gutted complex were so charred, officials said they would need to use dental records and DNA to identify them.
Furious relatives came to vent their anger outside the prison, which stands behind a fenced off field ringed with scattered palm trees where prisoners can plant crops. Some of the protesters suspected it was a deliberate attack and that police and guards knew about it ahead of time.
All told, the country's penitentiaries are meant to hold 6,000. But the prison population is more than 12,500. Comayagua housed more than 850 inmates, well above its limit of around 500. Officials are still investigating what caused the fire.
Source: Reuters
Image: Ripple's Web