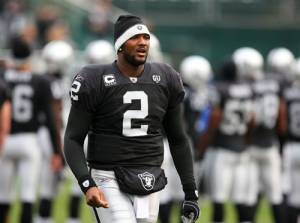 Former Oakland Raiders quarterback JaMarcus Russell's journey back to the gridiron hasn't culminated in him landing an NFL contract, but the former top pick is reportedly closer than ever to finishing his comeback. According to NFL.com's Ian Rapoport, Russell has drawn "significant" interest from multiple teams across the league.
'Major signs of progress'
Though teams have known for months that Russell, the Raiders' No. 1 overall pick in the 2007 draft, is interested in making a comeback, they are reportedly starting to take his efforts more seriously after major signs of progress. According to Rapoport, Russell has lost 50 pounds since beginning his comeback attempt and is down to 265 pounds—what he weighed at the combine six years ago.
Now 27 years old, Russell has been out of football since being cut by Oakland in May of 2010, following three disappointing seasons with the club. Thought to be the Raiders' next franchise quarterback, Russell started only 25 games with the club, compiling a 7-18 record, and he became known across the league as a talented yet frustrating player.
'Massive promise'
Three years later, though, Russell has embarked on a journey to fulfill his massive promise. He's been working out at the TEST Football Academy in San Diego and honing his skills as a quarterback with former Pro Bowl quarterback Jeff Garcia.
With Russell back down to playing weight and looking strong in throwing sessions, the interest around the league is understandable. Rapoport noted that Russell's ideal situation is sitting behind a veteran NFL quarterback to learn and get reacclimated to the game and that he's willing to try the CFL if NFL teams fail to extend a formal offer.
Do you think JaMarcus Russell will get a great offer from the NFL teams that are interested in him? Which team will he likely join?
Source: Tyler Conway, Bleacher Report
Image: Colts