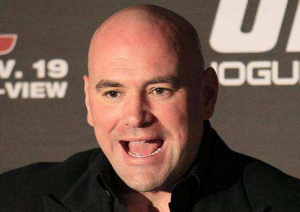 Long before he became the most powerful man in mixed martial arts, UFC president Dana White was a boxing fan. On Tuesday during the "UFC Tonight" show on Fuel TV, White laid into superstar boxer Floyd Mayweather Jr.
White called Mayweather racist for Mayweather's comments on Twitter about New York Knicks guard Jeremy Lin. He also blasted Mayweather for failing to sign to fight Manny Pacquiao and said a 50/50 purse split, as Pacquiao has demanded, is the most logical move.
Don't worry about what all these other guys are doing and shooting your big mouth off on Twitter. What you should worry about is getting in there and making the fight that all the boxing fans want to see. Get in there and fight Manny Pacquiao. You don't deserve more of the purse. If ever there were a fight in history that should be split 50/50, it's the Pacquiao-Mayweather fight. Shut up! Both of you split the money up and put on the fight that everybody, including me, wants to see.
Mayweather commented about Lin on his Twitter account on Feb. 13. He didn't really rip Lin, as numerous sites have alleged, but simply said that Lin is getting a lot of hype because of his race and that African-American players don't receive a comparable amount of hype. White also ripped Mayweather for 2010 comments that the WBC welterweight champion made about Pacquiao. His most incendiary words, though, were when he flat called Mayweather a racist.
White, who managed boxers in the 1990s, ended his tirade by telling Mayweather to "shut up and make the fight."
Source: Yahoo News
Image: Tucson Citizen