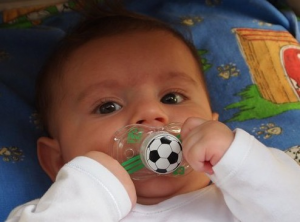 Popping a binky in a baby's mouth is a quick way to stop them from fussing, but for boys, it may also short-circuit their emotional growth.
Before a baby can talk, he or she relies on non-verbal cues, especially facial expressions, to communicate. Babies also mirror those cues, and in so doing, discover the emotions the cues are attached to. In a recent study published in the Journal of Basic and Applied Social Psychology, researchers from the University of Wisconsin scientists evaluated over 100 kids and found that that six and seven-year-old boys who had heavily used pacifiers were worse at mimicking emotions expressed by faces on a video.
"Females tend to be more precise both in both expressing and reading emotional cues," lead author Paula Niedenthal, PhD, tells Shine. "We don't exactly know how that occurs. One reason might be that be that society encourages girls to read emotions. They might work harder at it." Since boys aren't expected to be as emotional, parents may not compensate for pacifier use by helping them learn in other ways.
Niedenthal acknowledges that asking parents (and babies) to chuck their pacifiers puts her on shaky ground. She also says pacifier use while sleeping doesn't harm boys emotionally. "We already know from this work that nighttime pacifier use doesn't make a difference, presumably because that isn't a time when babies are observing and mimicking our facial expressions anyway. It's not learning time."
How often do you offer a pacifier to your baby? Do you agree with this study that heavy use of pacifiers could hamper emotional growth of baby boys? Feel free to express your opinions!
Image: About Baby Care