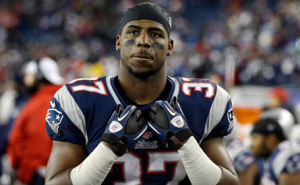 New England Patriots cornerback Alfonzo Dennard paid the price professionally for his involvement in the attack of a police officer by tumbling in last year's NFL Draft, but now he will be forced to endure a much more personal hardship.
'30-day jail sentence'
According to Lori Pilger of the Lincoln Journal Star, Dennard has been sentenced to probation as well as a 30-day jail sentence for his involvement in the incident. The sentence will begin on March 31, 2014, and he will have to complete 100 hours of community service as well.
According to Shalise Manza Young of The Boston Globe, Dennard was arrested on April 21, 2012, and charged with assaulting a police officer. Dennard was reportedly celebrating with friends at some bars in Lincoln, Neb., before getting into an altercation with another college student.
'Became aggressive'
Officer Ben Kopsa attempted to diffuse the situation, but Dennard reportedly became aggressive and struck Kopsa. News of Dennard's arrest spread like wildfire days before the NFL draft, and he ultimately lost a lot of money because of it.
Dennard did land in an ideal situation with the Patriots if nothing else, but he has paid dearly for his actions. According to Pilger, the judge will consider motions to change probation terms, including possibly suspending jail time down the line, so all things considered, Dennard should consider himself to be very lucky.
Do you think the Patriots will still stand by Alfonzo Dennard? Feel free to comment on this story.
Source: Mike Chiari, Bleacher Report
Image: The Guardian