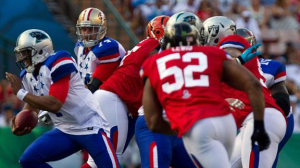 The NFL is still fighting the good fight to save the Pro Bowl, hoping a draft will give the dying exhibition game a shot of life.
'Lamest All-Star exhibition'
NFL.com's Ian Rapoport delivered some interesting news on the future of the lamest All-Star exhibition in sports. Unfortunately, it wasn't a report on how the league was going to kill it off completely:
"The @nfl hopes to settle on the future of the Pro Bowl today. One option: Having a draft as a way to divvy up teams, rather than conference."
'Beyond repair'
Some may think the Pro Bowl is something that can be saved or remedied with some tweaking and clever maneuvering, but it's beyond repair. And we really should be fine with that. Football just doesn't work as an exhibition: the hits are weak, the play is dull and fan interest is remarkably low.
I still contend the best idea is to stop the game completely. An annual Pro Bowl announcement can still be held, but the game itself needs to go. Having a draft is a great idea, as this will garner interest from a sports world that lives for drafts. But when it comes to the actual game, if a win doesn't matter one way or another, then why watch?
So, do you think the Pro Bowl should just go? Or should the NFL keep trying to come up with ways to save it?
Source: Gabe Zaldivar, Bleacher Report
Image: ESPN