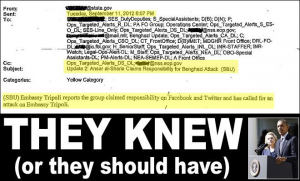 Two hours after first being notified of an attack on the U.S. diplomatic mission in Benghazi, Libya, a government e-mail to the White House, the State Department and the FBI said Islamist group Ansar al-Sharia had claimed credit, according to a copy obtained by CNN.
'Conflicting information'
However, the e-mails raise further questions about the seeming confusion on the part of the Obama administration to determine the nature of the September 11 attack that left U.S. Ambassador Christopher Stevens and three other Americans dead. Two White House officials, speaking on condition of not being identified on Wednesday, said the government e-mails about the attack were not an intelligence assessment. They also noted that there was conflicting information about Ansar al-Sharia denying responsibility.
The day after the attack took place, President Barack Obama referred to it as an "act of terror." But in the following days, White House spokesman Jay Carney maintained there was no evidence suggesting the attack was "planned or imminent." The administration also suggested that an anti-Muslim video produced in the United States likely fueled a spontaneous demonstration in Benghazi as it had in Cairo, where the U.S. Embassy also was attacked.
'Claim of responsibility'
The e-mails obtained by CNN provide additional insight into the Benghazi attack. The first one, sent at 4:05 p.m. ET, or 10:05 p.m. in Libya, described a diplomatic mission under attack. Less than an hour later, at 4:54 p.m. ET, another e-mail reported a search was underway for consulate personnel. The final e-mail, at 6:07 p.m., noted the claim of responsibility for the attack. The subject line said: "Update 2: Ansar al-Sharia Claims Responsibility for Benghazi Attack."
Analysts examine a group's history, whether it made previous claims that were legitimate, whether it has the capacity to carry out such an attack, and whether known members of the group participated in the attack in assessing the validity of claims of responsibility.
Do you think it really was Ansar al-Sharia that carried out the attack? Feel free to comment on this issue!
Source: CNN
Image: Democratic Underground