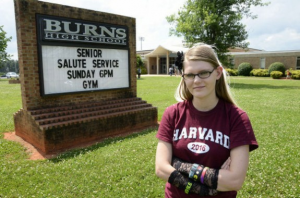 Dawn Loggins was homeless at the start of the school year, abandoned by her drug-abusing parents. She got a janitorial job through a school workforce assistance program. She's grateful for the work. But it's where she's going next, beyond the walls of Burns High School, that excites her most.
Dawn grew up in a ramshackle home with no electricity and no running water. She often went days, even weeks without showering. She and her brother Shane — who was equally studious in his schoolwork — would walk 20 minutes to a public park to fetch water. Burns High was their fourth high school since middle school, as they moved from town to town. Shane was outgoing, but Dawn always appeared more reserved.
For a while, Dawn lived on the odd couch at friends' homes, while she figured out what to do. Sometimes, she slept on the floor. The only thing that was clear was that she wanted to stay in Lawndale, where she was active in extracurricular activities, had a boyfriend and had a job. With her parents gone, she processed the options with her guidance counselor, who helped her find a new home and process her college applications.
Dawn applied to four colleges within the state: the University of North Carolina at Chapel Hill; North Carolina State University; Davidson College; and Warren Wilson College. In December, she sent one final application off in the mail, to her reach-for-the-stars choice, Harvard. Months passed. She was accepted to the four schools in North Carolina. And finally, she received an acceptance letter from Harvard! In addition to that, she was offered tuition, room and board, as well as assistance finding an on-campus job.
Dawn has learned the sort of lessons that can't be learned in school. "I love my parents. I disagree with the choices that they've made. But we all have to live with the consequences of our actions," she said. She takes it all in stride. "If I had not had those experiences, I wouldn't be such a strong-willed or determined person."
She might just find Harvard to be easy, don't you think? Did Dawn Loggins' story inspire you? Share your thoughts with us!
Source: CNN
Image: Patheos