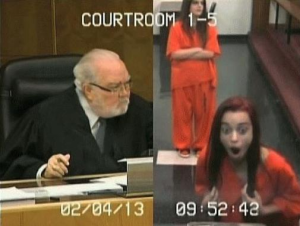 A Miami woman facing drug charges made her situation much worse when she laughed at and then flipped off the man with the gavel. File this case under: Ill advised.
'Raised the bond'
According to NBC Miami, 18-year-old Penelope Soto was in court for charges relating to possession of Xanax, a prescription drug. Judge Jorge Rodriguez-Chomat was in the process of setting her bond. He asked Soto about the value of her jewelry. Soto laughed. That was strike one.
The perplexed judge asked if Soto had taken drugs within the past 24 hours, to which she answered, "Actually, no." The judge then set Soto's bond at $5,000 and said, "Bye-bye." Soto chuckled and said, "Adios." Strike two. The judge summoned her back and raised the bond to $10,000, eliciting gasps from those in the courtroom.
'Contempt of court'
Soto asked if the judge was serious. Judges are not known for their humor, and Rodriguez-Chomat is no exception. "I am serious," he said. "Adios."
But Soto wasn't done. Instead of leaving the courtroom she flipped Rodriguez-Chomat the bird and said "F*** you." And that was strike three. Soto was again called back and then sentenced to thirty days in the big house for contempt of court.
Do you think Penelope Soto deserved the additional bond and punishment for making fun of Judge Jorge Rodriguez-Chomat? Would you have done the same if you were the judge? Feel free to comment on this situation!
Source: Mike Krumboltz, Yahoo News
Image: Fox News