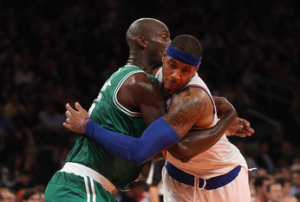 The NBA obviously frowns on on-court fights and altercations, and in many cases they suspend players for it. But the league reserves a special kind of disapproval for incidents that spill over from the court and into other basketball-associated areas. The idea — usually a good one — is that players should know how to control themselves away from the intensity of competition.
'Heated argument'
So Carmelo Anthony can probably expect a suspension pretty soon. With nine minutes remaining in the fourth quarter of the Boston Celtics vs. New York Knicks game at Madison Square Garden, Kevin Garnett and Anthony got into a shouting match on the court after a particularly physical possession. Both players were given technical fouls and separated by teammates. It was a heated argument but certainly not the sort of play that earns severe punishment.
'Another altercation'
However, that was only the start of the night's activities. After the game, reports surfaced that Anthony waited outside the Celtics' locker room after the game and got into another (non-physical) altercation with Garnett. That story has not yet been confirmed. What we do know for sure, though, is that Melo also waited for KG outside the Celtics' bus, because CSNNE.com captured video of it.
We don't know the threat level of these post-game arguments, but the fact that Anthony apparently couldn't leave well enough alone suggests that he'll be hit with a suspension. We must now wait for the NBA to conduct its investigation into the matter and decide upon a punishment.
Do you think Carmelo Anthony will get a suspension for getting into post-game arguments with Kevin Garnett? Who says 'yay' and who says 'nay'?
Source: Eric Freeman, Yahoo Sports
Image: SB Nation